Big Boost in Chinese Exports Could Lead to More Rapid Tightening
It was widely anticipated that Chinese exports would turn positive in December, but very few expected by such a large magnitude–17.7% y/y.  A portion of the increment was due to a small base effect from a decline in exports in December of last year.  However, on a monthly basis the value of exports still rose to USD130.7bn from USD113.5 in November.  Increase were broad based with textiles rising 25% y/y, compared to 7.3% in November, while mobile phone exports climbed 68.9% y/y in December, versus 13.5% a month prior. Machinery exports jumped 39.6% during the month.  Chinese exports to the US rose 15.9% in December (-1.72% in November), while exports to the EU rose 10.2%.
During December Chinese imports grew by an almost unbelievable 55.9% y/y, versus 26.7% in November.  Strong commodity imports continue to feed China's investment led recovery.  While, a rise in imports from other Asian countries could be an indication that Chinese exporters have a bullish view on their near-term outlook.;  these imports tend to an input into China's export processing trade.
China Trade: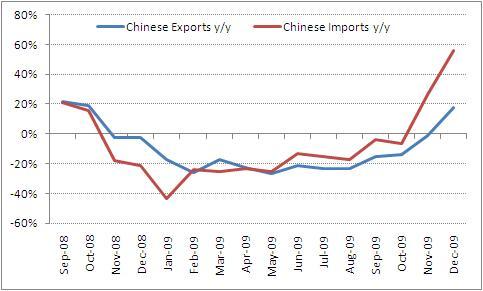 Source: Bloomberg

What does this all mean?  First off, if extremely strong export results continue China may be more willing to gradually appreciate the Yuan sooner rather than later, potentially as early as March or April.  Secondly, strong export growth reduces China's dependency on investment for economic growth, and if this continues it should entice the government to pullback investment and begin tightening monetary policy to curtail growing inflationary fears.  Once it appears  eminent the government will tighten and begin removing liquidity over the near-term, Chinese equity markets should come under pressure.  To help gauge the timing of the eventual move I will be watching a combination of China's price indices, PMI releases, and trade data.  I anticipate inflation will continue to edge up, led by food prices, while growth should remain robust, meaning the probability of a new tightening cycle should continue to rise.